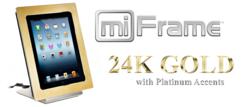 Chicago, IL (PRWEB) July 31, 2012
Striped Sail announces it has perfected the process of plating its flagship miFrame iPad charging station in pure 24k Gold and Platinum for the iPad consumer with exceptional taste that requires a versatile iPad docking stand able to charge iPad in portrait and landscape mode.
PRICING AND AVAILABILITY
24K GOLD & PLATINUM LIMITED EDITION IPAD CHARGING STATION- $ 849

The new 24k Gold and Platinum Limited Edition miFrame features a 24k Gold plated frame with Platinum plated glittering bevels and a Platinum plated base. The core of the frame and base are still aircraft grade aluminum, like the original product, so that the frame remains light and durable. Frames can be custom laser engraved for an additional $ 100.
THE GOLD STANDARD FOR IPAD STANDS

Like previously released styles and colors, the new 24k Gold and Platinum miFrame can charge iPad with its built-in dock connector in both portrait and landscape orientations and it comes with an extended 5 foot USB cable so miFrame can be positioned in just the right place and still reach an electrical outlet.
The product has dual uses. It can hold an iPad upright in portrait or landscape while a user checks mail and surfs the web or displays a digital slideshow. Plus it is a beautiful and functional 8