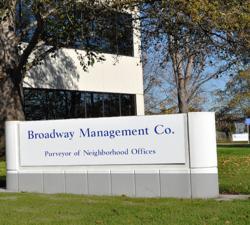 Alameda, CA (PRWEB) June 15, 2012
Broadway Management Co., providing commercial real estate and conference rooms throughout the Alameda and Oakland areas, is currently offering two adjoining offices for lease in the Kofman Building, located at 1516 Oak St. in Alameda.
"These two office rooms have a shared waiting room, next to a shared conference room and lunch room, on the ground floor of the Kofman Building and will be available in mid-July," said Edward Hirshberg of Broadway Management Co.
The Kofman Building is in an ideal location, located in historic downtown Alameda, right across the street from city hall and the police department. The three-story building sits next door to a new, state-of-the-art library and many great eats.
Broadway Management Co. is a family-owned business that has aided business owners for more than 50 years. Founded in 1960, the company helps clients select office rooms, conference rooms and commercial real estate properties, and serves all areas of the East Bay, with convenient proximity to Oakland.
Finding the right office space that connects San Francisco and its neighborhood can be challenging. We have the experience, the relationships and the network to help you, Hirshberg said.
For more information about the Kofman Building leases or any of Broadway Management Co.s properties or services, call 510-682-3481 or 510-250-3734, or view the commercial real estate specialists on the Web at http://www.broadwaymanagement.net. Broadway Management Company is located in Alameda.
About Broadway Management Co.
Broadway Management Co. is a purveyor of local offices, assisting businesses with commercial real estate to find the right fit for their business, with the proper amount of office rooms and conference rooms. Broadway Management Co. features interior studio design and room remodeling based on clients needs and desires. Broadway Management Co. helps provide the best interests to clients at all times.
Related Interior Design Press Releases