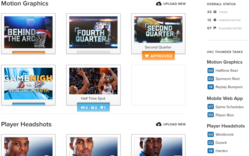 Oklahoma City, OK (PRWEB) July 19, 2012
Cage, an online collaboration tool that provides a secure environment for creative teams to present their work for feedback and approval, will launch public beta on Thursday, July 19, 2012.
Starting Thursday, users can join the public beta by visiting http://cageapp.com/
"Sandip and the Cage team have been focused on building an easy-to-use, intuitive product for designers and creative teams. Cage is both, plus its beautiful to look at," said Graphicly founder Micah Baldwin, who is also a Cage advisor. "I love the platform and the attention to detail, and Im even more impressed with the team that put it together."
Cage allows users to easily upload and present files, manage tasks, organize revisions and receive approvals all in one simple environment. Since Cage entered private beta in 2011, more than 20,000 creative professionals have signed up to use the product, including many who work at some of the biggest brands in the world, such as: Omnicom, Google, BBDO, Twitter, Facebook, Saatchi & Saatchi, Target, AT&T, Virgin Media, Moleskin, Marvel, Electronic Arts, Walmart, Ogilvy and Weber Shandwick.
The public beta is accompanied by a complete redesign and redevelopment of the interface and includes several new or improved features: