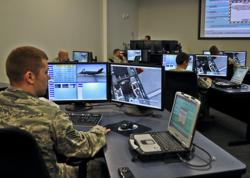 Orlando, FL (PRWEB) June 14, 2012
The DiSTI Corporation, a leading developer of interactive 3D software and customized training solutions, enabled early training for the Academic Training Center (ATC) at Eglin Air Force Base through advanced virtual maintenance training technology. DiSTI was selected by AAI Services Corporation for development of the F35 Lightning II Aircraft Systems Maintenance Trainer (ASMT), as one part of the F35 training system that was developed by Lockheed Martin. The ASMT gives the ATC an innovative training method and increases student throughput prior to the aircraft being fielded.
The ASMT provides training for student maintainers with curriculum covering ground operation, maintenance, and testing procedures. Through its latest software tools and processes, DiSTI streamlined the conversion of Computer Aided Design (CAD) data provided by Lockheed Martin to produce a high fidelity and interactive virtual maintenance environment for the ASMT. By creating a lifelike virtual representation of the actual F35 jet and its components, DiSTI worked with AAI to produce a training application that immerses students in a compelling 3D virtual environment.
The desktop trainers such as the Aircraft Systems Maintenance Trainer, requires each student to follow the procedures of checking out virtual tools, reading the maintenance checklist, and individually performing each task, said Brian Vohl, Lockheed Martins Weapons Instructor.
The 33rd Fighter Wing at Eglin has eight basic familiarization courses in session where the students have access to the computer simulators. Student maintainers now have a way to become familiarized with the F35 by working on a virtual aircraft before the actual aircraft is delivered. This comprehensive training solution aided the Air Force students at Eglin to gain their first certificate of completion in the F35 courses for structures, avionics, weapons and crew chief career fields.
This is hugely significant for all services because we are getting our maintainers prepped for when we are fully stoodup for F35 training in the near future, said Col. Andrew Toth, 33rd FW Commander. The classes are another exciting step forward in the 2012 execution year for F35 training.
DiSTIs renowned virtual maintenance training technology has been implemented in numerous high profile programs for the U.S. and foreign militaries, solidifying our position as a leader in the field. The ASMT is no exception. It produces highly realistic virtual training, reduces development time and costs, and gives the students a way to become familiar with the aircraft before they lay their hands on one for the first time, said DiSTI President, Joe Swinski.
Since its delivery to the ATC at Eglin Air Force base, the ASMT has become an integral part of the training curriculum. In March, approximately 100 maintenance students from three branches of service began the inaugural classes for the F35 basic familiarization courses at Eglin AFB. For more information on DiSTIs specialized technology and virtual maintenance training solutions, visit http://www.disti.com.
About DiSTI

DiSTI is a global leader in the development of Human Machine Interface software for businesses, governments and the military. The companys flagship product, GL Studio, enables programmers and developers to build highfidelity graphics, 3D simulations and fully interactive controls into their models, enhancing the level of realism and sophistication, while improving learning and retention.
More than 500 customers worldwide, including BAE, Boeing, Dassault, FedEx, Lockheed Martin, Honeywell, Raytheon and Thales, use DiSTI solutions to build maintenance trainers, create PC and Internetbased courseware and to develop components for safetycritical applications. As a full service provider, DiSTI offers a complement of customer programming and development services, and is the recognized leader in training solutions for the global simulation and training community. For more information, visit http://www.disti.com.
Find More Graphic Design Press Releases