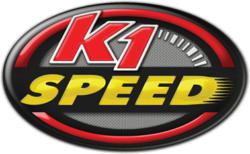 Irvine, CA (PRWEB) June 07, 2012
With the opening of its newest center scheduled for August 2012 in San Francisco, K1 Speed the largest indoor karting company in the United States is introducing the adrenaline-pumping thrills of karting to a whole new audience. Founded in Southern California in 2003, the company is finally set to take over Northern California, with no less than four locations planned for the area, including Santa Clara now open, San Francisco, Pleasanton and Sacramento. Its San Francisco location is built with the community in mind from zero-emission electric karts to energy efficient lighting, the center is built to have a small environmental impact and should provide a unique and exciting new place for residents to unwind and have fun.
The K1 Speed Difference All-electric Karting

K1 Speed redefined what karting is when it was founded almost 10 years ago. With poorly maintained outdoor tracks littering the country, often at amusement parks right alongside miniature golf courses, the sport of go-kart racing had lost its luster in the United States. K1 Speed sought to change that and it took a page out of Europes approach to karting to do so. K1 Speeds tracks are professionally designed and are built indoors, allowing for racing every day of the year in any weather. The tracks are also designed with safety in mind; as opposed to spare tires jutting out of the ground, K1 Speed utilizes TecPro safety barriers. Perhaps the biggest distinguishing feature, however, are K1 Speeds karts.
Unlike outdoor kart tracks, which have anemic, poorly maintained, gas-powered karts that are loud, noxious, and heavy, K1 Speed utilizes zero-emission, all-electric European karts. Built in the same style of the world championship kart chassis that Formula One drivers learn their trade in, K1 Speeds karts provide genuine thrills and an authentic racing experience. In fact, they can reach speeds approaching 45mph on the companys