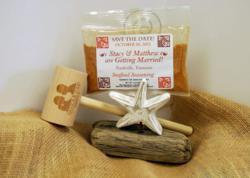 West Warwick, RI (PRWEB) June 19, 2012
QuickLabel Systems, a brand of Astro-Med, Inc. (NASDAQ: ALOT), is pleased to announce that its customer JO Spice Company now offers a line of custom labeled spices and seafood seasonings ideal for wedding favors and for restaurant brand spices and seasonings.
JO Spice has been custom blending crab seasonings for 67 years, and its seasonings, spices, batters, breadings, and soups are used in virtually every crab house and seafood restaurant along the East Coast of the United States. J.O. Spice is the flavor of Maryland! said Kathleen Duncan, the companys graphic designer. When you enjoy seafood in our state, especially crabs, I can almost guarantee that you are tasting J.O. Spice.
Recently, JO Spice expanded its custom labeling program to include personalized seasonings and spices, often paired with laser-engraved personalized crab mallets. Weve always offered custom labeled seasoning and spices, said Duncan, but as technology has advanced so has the demand for custom labels.
When J.O. Spice realized they needed to bring label printing in-house in order keep up with the demand for custom labels, they had some decisions to make. One was to find an in-house label printer capable of printing the kind of labels they wanted to offer to their customers.
When they discovered QuickLabel Systems, J.O. settled on two of our color label printers: the Zeo! light-duty inkjet label printer and the Vivo! Touch production-capacity label printer. The Vivo! Touch and the Zeo! label printers have advanced the quality of our label printing needs, said Duncan.
Our QuickLabel printers have proved to be a great business investment, said Duncan. Printing our own labels in house has allowed us to print a quality label at an affordable price which allows us to offer custom labeling with a smaller minimum requirement. The customer service and support from QuickLabel has been great.
Now that we have our Vivo! Touch and Zeo!, our color selection is endless. Its amazing how much personality you can bring out in a label by the use of design and color. With vivid and bold label colors, Duncan said that she can create personalized label designs from bold and sassy to simple and understated.
Duncan strives to tailor each personalized spice label especially for each wedding couple or for each special event. Its always fun to let your imagination run wild while designing, she said. Seeing the finished product is rewarding. Most times it comes out better than I imagined! The emails and referrals I receive from happy customers is overwhelming and makes my job very rewarding.
To order a custom labeled spice or seasoning, simply contact Ginger at JO Spice at 1-800-537-5714 and ask for a custom label to be created. Duncan will then take over, developing a personalized spice label design to please any restaurant marketing executive or bride-to-be. Most customers approve their proofs the first time around and are very happy!
About JO Spice Company
J.O. Spice Company was established in 1945 and is a Baltimore, Maryland based manufacturer and distributor of a wide range of seafood seasonings, spices, batters, breadings and soups. The JO brand crab seasonings are used in almost every crab house and restaurant on the East coast that serves Maryland steamed crabs and is the preferred crab seasoning around the Chesapeake Bay area. The J.O. Crab Seasoning is a custom blend using ingredients and a special salt, which adhere to the steamed crab. To taste what JO Spice has to offer, visit store.jospices.com or call 1-800-537-5714.
About QuickLabel Systems and Astro-Med, Inc.
QuickLabel Systems is a leading manufacturer of digital color label printers used by manufacturers and processors who want to print their own labels in-house, as well as barcode label printers, thermal transfer ribbon, labels, and custom label printing services. QuickLabel Systems is a brand of Astro-Med, Inc., a manufacturer of high tech specialty printing systems, electronic medical instrumentation, and data acquisition systems for test and measurement. Astro-Med, Inc. (NASDAQ:ALOT) is a member of the Russell Microcap