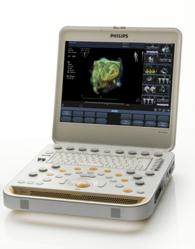 Andover, MA (PRWEB) July 02, 2012
At the 23rd annual scientific sessions of the American Society of Echocardiography (ASE) in National Harbor, Md., Royal Philips Electronics (AEX: PHI, NYSE: PHG) announced the new CX50 xMATRIX, the worlds first portable ultrasound to offer Philips industry leading Live 3D TEE. Previously only available with Philips iE33 xMATRIX premium echocardiography solution, Live 3D TEE enables 3D visualization of the cardiac structure and function as well as new perspectives of the heart in real time, enabling better patient care.
Since its launch in 2008, Philips CX50 CompactXtreme ultrasound system has been providing the flexibility of a portable system, while delivering the imaging performance of a premium ultrasound solution. With Live 3D TEE now available on the CX50 xMATRIX, interventional teams can more easily access important clinical information and visualizations for complex interventional procedures. For clinical efficiency the compact Live 3D TEE transducer is designed to be shared between the CX50 and iE33 xMATRIX systems. Because of this, departments should be able to reduce the number of TEE transducers that must be purchased, tracked, cleaned, and stored.
The first thing the staff noticed was the incredibly small size of the CX50 system, which is very useful in our cath lab where space is at a premium, said Dr. David Liang, MD, PhD, Associate Professor of Medicine and Director, Marfan Syndrome and Aortic Disorders at Stanford University. In clinical evaluations the Live 3D TEE image quality is excellent and, with the new user interface, 3D imaging is really intuitive. In imaging TAVR procedures with the CX50, I am able to easily switch back and forth between 2D and 3D during the critical time when we are positioning the valve.
The CX50 xMATRIX is a uniquely powerful all-in-one imaging solution for structural heart disease (SHD) repairs in cath labs and hybrid cardiac operating rooms, offering Live 3D TEE plus an architecture designed to support future capabilities including advanced fluoro integration (EchoNavigator, 510(k) pending) with Philips Allura systems.
Along with the new CX50 xMATRIX, Philips announced the Vision 2013 upgrade for existing CX50 cardiology customers. Vision 2013 includes: