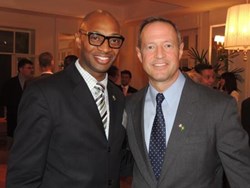 Cambridge, Maryland (PRWEB) December 09, 2015
Cambridge International, the worlds leading manufacturer of metal belting based in Cambridge, Md., announces the completion of a successful trade mission trip to Brazil, in conjunction with the Maryland government.
Dion Banks, Director of Governmental Affairs, traveled with Governor OMalley and a delegation of more than 30 Maryland businesses, higher education leaders and government officials, in a nine-day economic development mission to Brazil and El Salvador December 2nd through 10th. The trip served to strengthen economic and cultural ties between Maryland and South and Central America as Governor OMalley and the delegation met with top officials, and potential business and investment partners.
While in Brazil, Governor OMalley announced that Cambridge International is expanding its manufacturing facility in Sao Paulo with additional product lines and plans to add a dozen employees by 2016. The company will also be expanding the Cambridge Architectural Division in Brazil over the next year.
Throughout the mission trip, Banks reinforced Cambridge Internationals position as a global industry leader. As one of the fastest growing major economies in the world and the largest economy of the Latin American nations, Brazil is an ideal location for Cambridge International and Maryland to advance business and promote economic growth. The company is actively growing and prides itself on dynamic problem-solving and innovation to maintain and grow its job base.
Cambridge International is a great example for other companies in Maryland and the nation because weve illustrated that we can innovate and reinvent ourselves towards a secure future, said Dion D. Banks, Director of Government Affairs. Business ventures like this mission trip position us for further business development and global growth that we can tie back to the state of Maryland.
About Cambridge International
Cambridge International, Inc. is a global industry leader, expanding to include three distinct divisions – Cambridge Engineered Solutions, Cambridge Architectural, and Cambridge Environmental Technologies. Based on Maryland's Eastern Shore, with five manufacturing locations around the world, the company is recognized as a pioneer in engineering and manufacturing, supporting a diverse array of industries. Employing over 400 team members, Cambridge is actively growing and expanding as it continues to develop innovative product solutions to help its customers, and are thusly poised to evolve and grow into the next century.