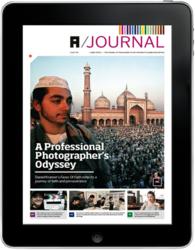 San Francisco, California (PRWEB) June 19, 2012
The Academy of Art University announced today that it has launched a new, free iPad app featuring the art and design work of alumni. The A/JOURNAL app, which brings to life the Universitys A/JOURNAL traditional print quarterly magazine, features accomplishments of Academy alumni worldwide, including photo galleries, interviews, videos, slideshows, and interactive opportunities.
The app, which can be downloaded for free on iTunes, was created in partnership with Adobe, developer of the Digital Publishing Suite, and MEI, which built the templates and interactive elements using Digital Publishing Suite technology and continues to provide the Academy with hands-on training and support.
Academy alumni are some of the worlds greatest artists and designers, said Dr. Elisa Stephens, President of the Academy of Art University. We wanted to create an interactive digital media platform that allows people to fully grasp the color, detail and creativity behind each alumni project. Adobe and MEI have enabled us to create an interactive app that not only allows alumni to share their work on new projects with their fellow alumni, but that allows the public to see the high-quality work that Academy graduates are doing in their chosen professions.
Features of the new app include:


Table of Contents Page: A tool that allows the user to preview articles by swiping through photos.
Latitude/Longitude Map: What was once a standard map feature in the print magazine has been brought to life by hyperlinks that reveal GPS locations of alumni on a Google map.
Video: Academy graduates include motion-picture artists, animators and video-game designers, among others, which makes video a crucial feature of the alumni magazine.
Profiles: Features about former students who are applying the skills they developed at the Academy of Art in their professional careers. Stories include hyperlinks to websites so users can learn more about the person and their work.
Out There Section: Updates on alumni featuring slideshows and videos, including an interactive feature that allows other alumni to submit descriptions of projects for future editions.
Social Networking: The app includes a live Twitter feed with the ability to tweet, email or share via the Facebook and LinkedIn networks.
Adobe Digital Publishing Suite is ideal for a university like the Academy of Art because it enables projects that cant be fully showcased in print media to come alive. From illustration and video to multimedia, entire galleries of work can be displayed in a much more comprehensive, engaging way, said Trevor Bailey, director of worldwide education, Adobe. Using Adobe Digital Publishing Suite not only enriches the way the work is shown, but it provides the university with an opportunity to save significant costs, reach a wider audience on all leading mobile platforms, build brand in the digital space and have a positive impact on the environment.
The beauty of this partnership is that weve been able to provide the Academy of Art University with a cutting-edge digital publication that maintains design continuity with their traditional print publication, said David Gillespie, MEI Senior Account Executive. We are currently helping the university maximize the capabilities of this technology, and are looking forward to breaking new ground with them in their ongoing digital efforts.
To download the app, visit: http://itunes.apple.com/us/app/a-journal/id526192332?mt=8.
About MEI

Managing Editor Inc., an Adobe premier development partner, develops, integrates and supports quality, proven publishing software. MEI specializes in providing tools that manage content for any medium print, online, tablets such as the iPad, mobile devices such as the iPhone and other digital formats. Visit http://www.maned.com for more information.
About Adobe Digital Publishing Suite

Digital Publishing Suite is a set of turnkey hosted services and viewer technology that tightly integrates with Adobe Creative Suite 6 products. Using Digital Publishing Suite in combination with Adobe InDesign CS6 allows traditional publishers, corporate organizations, ad agencies and individual designers and small design firms to publish, distribute, monetize and optimize a new class of innovative digital magazines, newspapers, ads and corporate publications. Platforms include leading tablets such as the Apple iPad, Apple iPhone, Kindle Fire, and other Android tablet devices. Digital Publishing Suite is offered in Enterprise, Professional and Single editions. For more information, visit http://www.adobe.com/products/digitalpublishingsuite.
About the Academy of Art University

Academy of Art University, the largest private university of art and design in the United States, is educating students for the art and design jobs of the 21st century. Established in 1929, the Academy is an output-based higher-education model that provides open admission to all students but imposes a rigorous curriculum that requires the students to produce a portfolio of work that demonstrates a mastery of their field in order to graduate. Students are taught by a faculty of professionals from the existing marketplace, which provides them with an understanding of what it takes to succeed in todays business environment. The Academys hands-on curriculum produces graduates who possess great artistic and design skills and equally important, the ability to put those talents to work immediately after graduation. As a result, Academy graduates are ready to compete for and win the jobs of the 21st century in the fields of Acting, Advertising, Animation & Visual Effects, Architecture, Art Education, Art history, Fashion, Fine Art, Game Design, Graphic Design, Illustration, Industrial Design, Interior Architecture & Design, Landscape Architecture, Motion Pictures & Television, Multimedia Communications, Music Production & Sound Design for Visual Media, Photography and Web Design & New Media. Academy of Art University is accredited by WASC, NASAD, Council for Interior Design Accreditation (Formerly FIDER), (BFA-IAD) and NAAB (M-ARCH). Visit http://www.academyart.edu for more information.