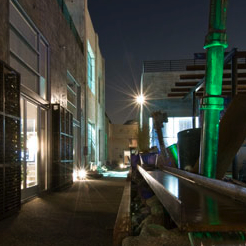 Los Angeles, CA (PRWEB) November 13, 2012
Live Work Loft, a Los Angeles-based development, property management and creative community organizer, recently re-envisioned their brand to better engage a growing population of Generation Y tenants, a move designed to align with their current, art-conscious positioning within the Los Angeles marketplace.
For a company focused on repurposing dated warehouses or industrial buildings to create hip, urban spaces to work and live, a fresh web presence and image was a logical next step, suggests Leasing Coordinator Amie Childers. Like a lot of the country, theres a strong push here in LA for young professionals to move back into the city limits, says Childers. So we wanted to make sure our brand reflected the modern, urban vibe inherent in all our creative live/work spaces.
And since Gen Y already conducts so much business online, we knew it was important for our website to reflect the unique character of our company as well as our live/work and retail properties."
To best capture the attention of working Millennials, Live Work Loft turned to Los Angeles branding and marketing agency, HypeLife Brands, a leading force in the effort to help brands engage the youth market. According to Curt Cuscino, Principal of HypeLife Brands, Live Work Loft already had many of the pieces needed for a successful rebranding; the trick was simply putting it all together.
If youve lived in LA or are thinking of moving to LA, youve probably seen or heard about Live Work Lofts spaces, says Cuscino. Theyre killer creative spaces that would appeal to any Gen Yer looking to live or work in the city.
Our goal was to simply create a brand that leveraged and capitalized on what Live Work Loft had already built literally.
Live Work Lofts new website is now live, and upon first glance, is distinguished by a strong focus on social networking, an aspect that was key for their brand moving forward, indicates Childers. We knew we wanted to be a brand that was easy to talk to and get ahold of, beyond just the tenant/leasing agent relationship, says Childers. HypeLife was really helpful in creating so many avenues for us to interact with the Gen Y community here in LA, as well as creating an impetus for them to engage us.
The whole process has been a great experience, continues Childers, Were on the streets, were on the web were really excited about the future of the Live Work Loft brand.
# # #
About Live Work Loft
Live Work Loft is the premier development, property management and creative community organizer in the greater Los Angeles area. The Live Work Loft team is responsible for restoring and converting many old and outdated buildings into desirable raw and architecturally urban live/work spaces, and collectively represents over $ 50,000,000 in renovations in the greater Los Angeles area. Live Work Loft can be found at http://www.liveworkloft.net/.