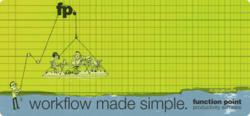 Vancouver, B.C. (PRWEB) June 01, 2012
Function Point Productivity Software Inc. (functionpoint.com), a worldwide leader in CRM, time tracking, invoicing and project management software for advertising agencies, design firms, and web development companies, is pleased to announce that it will be launching its newest version of the software (fp. version 10) on Tuesday, July 3rd 2012.
The upgrade to version 10 represents the fifth major release that Function Point has launched to our client base in the last 12 months" stated fp founder and CEO Chris Wilson. Tate Lillies, VP of Business Operations went on to say that "we are very excited about where our product is heading and believe that this new release will provide major benefits right out of the gate as we continue to up the ante on delivering the most effective project management and workflow tool and process built specifically for creative agencies."
Function Point has been strategically re-writing its workflow management software with a focus on providing small to medium sized creative and design firms a business tool that will help increase profitability and ease the burden of clerical and financial work for service companies who want to maximize their billable time.
By developing the new task management and scheduling components of the system along with financial views, the company is not only trying to simplify a project manager's job, it is trying to provide everyone in the agency with a view into the work that they are doing.
Highlights of the upgrade:


Schedules will become an independent module, with find and detail pages, more catalog and header data about the schedule object.
Schedules can be created independently, combined together and attached later to a job.
The introduction of a new fp.grid will be faster with less HTML.
Removal of the old template mechanism so any schedule can become a template.
Cloning of any schedule or template.
The Introduction of a new concept for container tasks and regular tasks.
New, more efficient loading, editing and saving mechanisms for task trees.
New, consistent state rules for task relationships with jobs, estimates, phases and services.
Addition of admin phases and services to the timeline items (when there is no estimate for pre-planning).
Notes (for CRM) become stand-alone main menu items with their own find and list pages.
An Improved UI for main navigation system (including re-sizes on smaller devices).
Addition of inline editing for more fields on schedules.
Creation of estimates and jobs from a schedule.
A sync from schedules to estimates.
About Function Point
Function Point Productivity Software Inc. (Function Point) is a web-based software as a service (SaaS) company, and is located in Vancouver B.C. The company was founded in 1997 and is a leader in workflow management software for advertising agencies, design firms, and web development companies. The software includes modules for customer relationship management (CRM), creative agency timesheet and job tracking, project management, purchase orders (POs), basic insertion orders, expense tracking and invoicing, as well as optional components for client collaboration, online design proofing and an integration to popular accounting packages such as QuickBooks and Simply Accounting. There are currently over 4000 active clients using the system as their primary task and project management tool.
With clients around the world, including Canada, the United States, Brazil, Singapore, the UK, Europe, Australia, South Africa and the Caribbean, the Company is truly international and continues to work hard at creating the perfect business tool for increasing agency efficiency and profitability. Companies in all facets of the creative industries us Function Point, including ad agencies, digital agencies, Web development companies, interior designers, architects and consultants to name a few.
The company prides itself on its best-in-class customer service, and backs everything with a 60-day, 100% money back guarantee.
Mission Statement
To help improve client profitability by providing a single, integrated solution for managing the day-to-day challenges of running a growing creative services company.