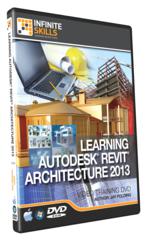 (PRWEB) July 26, 2012
Training development company InfiniteSkills Inc has announced its new Autodesk Revit Architecture 2013 Tutorial Video Course, designed to provide a convenient and professional guide to the fundamentals of the industry-leading BIM (Building Information Modeling) solution.
The course includes 89 lessons covering topics from importing CAD files created in other programs to rendering finished models ready for virtual walkthroughs. Available on DVD-ROM or as a direct download from the InfiniteSkills website, the 6.5 hour tutorial uses a self-directed learning model to allow viewers to learn entirely at their own pace.
Autodesk Revit Architecture 2013 Tutorial Video – Training Course for Beginners

Beginning with a basic introduction to BIM concepts and the Revit family of software, the Revit Architecture 2013 training first goes through the program's user interface, examining the ribbon, project browser and key menus used in professional building design. Next, author Jay Polding moves into project setup, helping viewers work with location settings and CAD imports to create a toposurface and raw outline of the structure to be built, a dinosaur-themed museum that serves as a common model throughout the course.
The Revit training moves piece by piece through viable building design, showing how to create walls, floors, stairs, roofs, ceilings and more. As each component is covered, the Revit tutorials examine the most common professional approaches as well as variations the viewer is likely to encounter in real world projects.