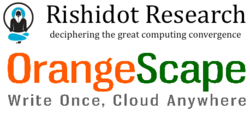 New York, NY (PRWEB) June 07, 2012
OrangeScape, a Global 10 Platform as a Service (PaaS) provider, announced today that CEO & Founder Suresh Sambandam will be speaking on a panel called Future of PaaS, at DeployCon2012 – a focused Enterprise PaaS Summit. This event is happening along side of the CloudExpo gala event on June 13th, 2012 at New York Javits Convention Center.
DeployCon 2012 – Enterprise PaaS Summit, features keynotes by industry heavyweights including Jonathan Murray, CTO, Warner Music Group, A. D. 'Bud' Albers, President, Interactive Technology Strategies, Former Executive Vice President and CTO of Disney along with industry thought leaders like Mike Hoskins, GM Big Data and CTO, Pervasive Software and Zorowar Biri Singh, SVP & GM Cloud Services, HP.
The panel Future of PaaS will be held between 4:15 PM and 4:55 PM. The focus of this panel is to think beyond application runtimes when it comes to PaaS. During this panel discussion, Suresh will enumerate his view about PaaS landscape and talk about how and why PaaS will matter most in the future, especially when the industry is going through a Master Architecture change.
Krishnan Subramanian, Principal Analyst, Rishidot Research said "I covered OrangeScape in my PaaS is the Future of Cloud Services where I talked about OrangeScape providing an abstraction much higher level than the PaaS solutions like Google App Engine, Microsoft Azure or Heroku or EngineYard and it will be very interesting to get Sureshs view on the Future of PaaS panel."
OrangeScape is offering Free VIP Passes for qualifying enterprise IT leaders and managers. Please sign up here if you are interested.
About OrangeScape
OrangeScape is a rare breed of Technology Company founded in 2003 with customers and partners in the US, India, UK & Europe. OrangeScape is one of the Global 10 Cloud Platform-as-a-Service providers featured in PaaS reports of Gartner and Forrester.
OrangeScape provides a model driven visual development environment for creating business applications that can be deployed on major public cloud platforms, like Google App Engine or Microsoft Azure, or on private cloud environments. OrangeScape has a marquee customer list including United Biscuits, India Infoline, Unilever, Citibank, Pfizer, AstraZeneca, Sterlite, Fullerton, Geojit and other large enterprises.
For more information, please visit: http://www.orangescape.com
About Rishidot Research LLC
Rishidot Research LLC is a next-gen analyst firm focusing on the great computing convergence of cloud computing, social, mobile and big data. Rishidot Research offers industry insights through research reports, advisory services, speaking engagements and conferences.
For more information, please visit: http://www.rishidot.com.