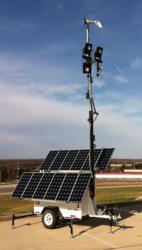 Apex, NC (PRWEB) June 11, 2012
Progress Solar Solutions, LLC to exhibit new solar light tower, durable and powerful enough to meet all Federal Government / Department of Defense needs and the rental equipment companies that serve them. The Progress Solar/Wind Light Tower (SLTW-1200) will be presented at the Environmental Symposium and is a great fit for this industrys high volume outdoor lighting needs which are dusk-to-dawn, seven days per week, year round. This model resembles a traditional portable diesel light tower but is powered by free, renewable energy instead of diesel fuel and can meet those challenging needs.
The Progress SolarTM SLT-1200 series of portable light towers is the most powerful available today, especially when combined with the New Wind Generator positioned on a telescoping mast above the flood lights. They are made in the U.S. (patent pending) and routinely operate independent of diesel, gas or the electric grid eliminating the use of fossil fuels or generation of carbon emissions. The solar light towers are powered by two on-board, high capacity solar generators and a wind generator, backed up by a dual bank rapid AC charger, if ever needed. These units are specifically designed for extremely demanding applications that need to be operational for lighting-on-demand year round. The large battery banks store power for several nights of lighting to allow use during cloudy days or inclement weather.
The Progress Solar SLT1200-HVR-N is a rugged, mobile light system that provides high-intensity, bright white lighting on-demand, where and when you need it. It is equipped with high power generating solar modules housed on automated solar wings that can be optimally positioned toward the sun to maximize solar energy gain combined with a wind generator to add additional wind power at night and during inclement weather for areas with an average wind speed of >/=7MPH; a telescoping mast equipped with 4 solid-state LED flood lights with high lumen output; and a long-life Power Module with sealed, AGM, no maintenance, deep-cycle batteries to store energy for use when needed. The light tower is fully adjustable from 12-30ft in height, able to tilt up/down and can rotate ~358 degrees. The solid-state LED flood lights provide a tremendous amount of bright white light, minimize power requirements, provide instant-on/off without flickering, are extremely reliable, vibration and shatter resistant, and designed to provide up to 5x longer run time between bulb changes than metal halide lights. The maximum power point tracking solar/light control module optimizes solar gain and protects the system. The lights can be turned on/off automatically from a timer, at user-programmable time intervals or manually on-demand. The system is on a portable trailer customized for maximum functionality and convenience and can be easily towed to its destination.
Dan Robertson, Partner of Progress Solar Solutions, commented, The SLTW-1200 series is a direct result of listening to some of the largest and most demanding outdoor lighting clients with challenging and extensive lighting applications like the Military, Oil & Gas, Mining, Public Utilities and Disaster Recovery. It also helps address the needs of clients in more solar challenged geographic areas.
About Progress Solar SolutionsTM LLC
Progress Solar Solutions, LLC of Apex, NC, specializes in manufacturing and distributing high-performance, eco-friendly and cost-effective solar and lighting solutions for commercial, industrial, government and institutional applications.