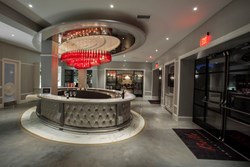 Los Angeles, CA (PRWEB) October 01, 2015
The Rey3 Design Collaborative (Rey3 Design), a Los Angeles-based architecture and interior design firm specializing in providing design services and custom furnishings for luxury, residential, hospitality/resort and commercial properties, has designed a multi-room building with original furniture and custom built-ins for The Bello Family Vineyard. Located in Napa Valley at 929 Main St. in St Helena, Calif., the tasting room allows customers to lounge in modern opulence that merges old-world design with a hip, contemporary style.
We wanted to showcase the new wine label by creating a rigorous brand experience through the use of a cohesive design language, said Rey III Viquez, design director for the project and design principal and owner of Rey3 Design. The Bello Family Vineyard has a strong French influence, which we highlighted with a modern French design in sharp contrast to the traditional rustic Napa experience. The final product captures the vineyards exclusive and upscale taste to really set the tone for the brand and create an exciting new experience for Napa visitors.
The new building consists of two lavish private tasting rooms, one with lounge seating and the other with a communal table, a main tasting bar, a retail display, a private office, storage area and restrooms. In addition, the building features front parking, a front patio, a back patio and a covered translucent roof terrace with an outdoor bar and lounge seating.
Rey3 Design created the new space from the ground-up, and was involved at all stages of the project — from concept, schematic design, design development, construction documents, permitting and construction administration. The scope of work included internal space planning; architectural detailing; architectural accessories selection such as exterior lighting, awnings, and outdoor terrace glass; canopy design; and outdoor fireplace design.
The design firm also custom designed all the furniture and accessories such as the upholstered panels, custom chandeliers, custom serving bar, retail display cabinets, plumbing restroom fixtures selection, and lighting selection for the whole project.
In addition to Viquez, Rey3 Design team included Andrew Clark and Louis Polidori, project designers; and Lorrie Shapiro, project manager.
About The Rey3 Design Collaborative:
The Rey3 Design Collaborative is an architecture and design firm known for providing clients with an exceptional experience, and places a premium on creativity and user needs. Rey III Viquez, founder and design principal of Rey3 Design, holds a masters degree in architecture and is an industry veteran with over 25 years of integrated architecture and interior design experience. The firm provides comprehensive architecture and design services for residential, commercial and hospitality/resort properties; custom furnishings; and interior design for yachts. For more information, please visit http://www.rey3.com.