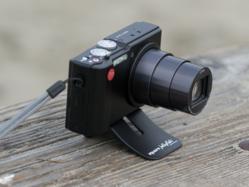 Fremont, CA (PRWEB) November 29, 2012
Santa Claus can capture photos of all of his gift giving around the globe with a convenient new camera tripod small enough to fit in the pocket of his red suit. Square Jellyfish is expanding its line of helpful accessories with a new pocket-sized tripod that will be available just in time for the holidays. The tripod will be perfect for any photographer who wants to stabilize a camera for pictures or videos.
Ideal for photography hobbyists on the go, travelers who dont want to carry a heavy tripod or families wanting to capture photos of parents and their children at home and virtually anywhere, the Square Jellyfish Pocket Tripod is portable and easy to use. It can be mounted quickly to any camera with a tripod screw mount. The unique shape of the tripod allows a camera to be positioned at many different angles while holding a camera steady to take a picture.
We have seen enormous interest in a small tripod thats easy for photographers to use on the go in any setting, said Judie Kuhn, Square Jellyfish product manager. This new product can steady a variety of cameras at many different angles yet its small enough to tuck in to a pocket, purse or bag without adding any weight or bulk to a trip.
Who hasnt wished they had one of these when taking a photo of a group or family, always forcing one personthe photographerto be left out of the shot? Kuhn said.
Photography enthusiasts can use the Pocket Tripod for hands-free positioning of a camera, which can be swiveled 360 degrees held level, or angled upward or downward in any combination. It is designed to support lightweight, compact cameras or small video cameras.
The Square Jellyfish Pocket Tripod is made from sturdy polycarbonate/ABS plastic, weighs only 0.4 ounces and measures 2.75 x 1.75 and is .75 tall. Available in mid-December from Amazon.com, each Square Jellyfish Pocket Tripod is $ 6.95.
The second in a new collection of consumer accessories with the Square Jellyfish label, these pocket-friendly tripods complement the first line of Square Jellyfish products, which were small cases to store Apple ear buds that double as a stand for a smartphone or tablet. Designed in the U.S.A., Square Jellyfish patents are pending.
For more information and for photos demonstrating how the Square Jellyfish Pocket Tripod can be used with a variety of cameras and positions, visit http://www.squarejellyfish.com
FOR MEDIA ONLY: Square Jellyfish is happy to send free samples of the Pocket Tripod to any writer, reporter or editor who requests one. Use the media contact information above to request a sample.