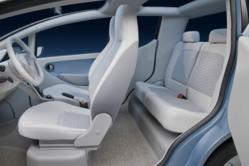 Detroit, MI (PRWEB) May 17, 2012
Tata Technologies, a leading global provider of engineering services and product development IT, announced that Peter Davis, Chief Designer Vehicle Design will moderate a panel discussion titled Global Micro-Cars Interiors at the 2012 Wards Auto Interiors Conference on May 17, in Dearborn, Mich. Davis is the Chief Designer on the Tata Technologies electric MObility (eMO) engineering study EV, which made its world debut at the North American International Auto Show in Detroit in January, and which was again on display at the SAE 2012 World Congress in Detroit last month.
Davis panel will take a detailed look at the challenges and possibilities of the micro-cars that are changing the world. Small is in, according to global automotive design trends; and panelists will share the latest ideas on where interior development is heading in these crucial vehicles. Davis will bring his personal insights from the eMO EV study to the discussion.
Designing micro-car interiors is a creative challenge, and demands a holistic from the interior-out mind-set, especially in North America, Davis says. What you dont do, is simply shrink a big car down. You have to preserve the interior space and find clever ways of making it even larger and easier to use. You need to push the green house architecture, and minimize the interior furniture, like we did on the eMO EV study.
We met that challenge, preserving a comfortable package for four adults, yet reducing the exterior size to a minimum. A high seating position, great visibility, a sensation of generous space, and easy ingress and egress were integrated into the vehicle architecture. Todays customers are used to great materials and finishes, and will expect richer interiors in these micro-cars. Micro doesnt mean cheap anymore, he added.
Panelists scheduled to participate on the Global Micro-Cars Interiors panel include Jay Hutchins, Director of Marketing and Product Planning Faurecia Interior Systems; Katherine Sirvio, Senior Design Manager Global Chevrolet Color and Trim, Chevy Spark; and Tim Yerdon, Global Director Innovation and Design Visteon.
The Wards Auto Interiors Conference is an annual gathering of leaders in the automotive industry, focusing upon automotive interiors engineering and design. The conference includes the Wards 10 Best Interiors awards; and scholarship awards to students from Detroits College for Creative Studies. Throughout the day, panel sessions will be presented providing the latest from industry experts on topics including environmentally friendly materials, connectivity, consumer needs, auto interiors and safety. http://www.wardsauto.com/interiors.com
As a ground-up EV study, eMO also incorporates design advantages over an internal combustion engine vehicle like smoother aerodynamic surfaces and shorter overhangs. eMO benefits from a low carbon footprint and a recyclability strategy. The eMO business case sets the MSRP at the disruptive price point of $ 20,000, before federal tax incentives or rebates. To learn more about eMO and Tata Technologies visit http://www.tatatechnologies.com/global/vpd/emo
About Tata Technologies
Tata Technologies, founded in 1989, is a global leader in Engineering Services Outsourcing and Product Development IT services to the global manufacturing industry; enabling ambitious manufacturing companies to design and build better products.

Tata Technologies is a company of innovators, specialists in the design engineering space, who apply cutting-edge technology to provide a competitive advantage to customers in the manufacturing sector. The company is a strategic partner for developing complete vehicles (VPD group), engineering subsystems and components (E&D), managing the NPI process and collaborative engineering (PLM), and tying together information created and used throughout the extended manufacturing enterprise (ESG).

Tata Technologies is headquartered in Singapore, with regional headquarters offices in the United States (Novi, Michigan), India (Pune) and the UK (Coventry). The company has a combined global work force of more than 5,600 employees serving clients worldwide from facilities in North America, Europe and the Asia-Pacific region. http://www.tatatechnologies.com
Tata Technologies Contacts:

Kevin Fisher President,

Vehicle Programs and Development

P: +1.248.760.3394

kevin.fisher(at)tatatechnologies(dot)com
Find More Architecture Planning Press Releases