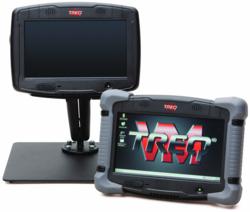 SALT LAKE CITY, UTAH (PRWEB) June 09, 2015
The TREQ-VMx mobile data terminal by Beijer Electronics, a designer and manufacturer of rugged human machine interface products, is now available with 3G UMTS/HSPA+ and CDMA EV-DO modems for faster connection speed and broader network reach. Currently used for managing delivery vehicles, truck fleets and other mobile assets, the removable TREQ-VMx with 3G capabilities allows fleet managers to access a larger communication network, quickly send and receive information and utilize more data capacity.
The 3G technology is designed by Gemalto, the world leader in digital security, developing secure embedded software for banking, wireless services, identity protection and government applications, and within its Cinterion M2M business line the full range of highly robust connectivity devices, embedded software and data management services. Gemaltos Cinterion PVS8 and PHS8 modules provide high speed, high bandwidth data communications for CDMA EV-DO and HSPA+ networks with seamless reliability extended to 2G and 3G networks as well. Offering integrated GPS technology, the modules provide precise location data plus an advanced power management system for extended operation in the field. In addition, Gemaltos Cinterion M2M modules are designed for longevity and flexibility sharing the same footprint with next generation LTE products allowing cost effective solution evolution as technology needs advance.
Additional features of the TREQ-VMx include a bright, LED lighted, 800 x 480 WVGA, 7 LCD display with touch screen, Marvell