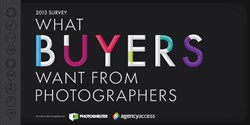 New York, NY (PRWEB) October 17, 2015
PhotoShelter (http://www.photoshelter.com), the worldwide leader in photography portfolio websites, sales and marketing tools for photographers, today published results from their 2013 Survey: What Buyers Want From Photographers. The results deliver responses from hundreds of photo buyers and creatives worldwide who offer major insights on how they like to be pitched, photo website preferences, plus strategies to help photographers attract potential clients and get hired. The 2013 results are packaged in a comprehensive guide, alongside in-depth interviews from those at leading editorial publications and ad agencies. The guide can be downloaded directly here: http://bit.ly/1hZmBTB
For the third consecutive year, PhotoShelter releases the What Buyers Want From Photographers survey in partnership with Agency Access, a full service marketing agency for artists.
The buyers surveyed this year vary in their needs for photographers and photography and are from a range of organizations including advertising agencies, design agencies, nonprofits, editorial publications, book publications, and corporations. Inside the guide, photographers will learn key marketing and business insights from those who hire, including:


75.6% say that compared to 2012, their budgets are increasing or staying the same
35.4% have discovered a new photographer through social media
71.7% say they look at unsolicited marketing pitches that are relevant to their needs
33.6% cite easy navigation as the most important element of a photographers website
Photographers will also find email and direct mail tips to help improve their marketing efforts and attract potential clients. For example, on the importance of personalizing a pitch, says one Creative Director from an advertising agency, Make sure your email comes across as genuine. This means dont act like a car salesman with gimmicky phrases and subject lines. Make the email personal – we can smell a form letter in seconds.
PhotoShelter and Agency Access also partnered in 2011 and 2012 for their annual What Buyers Want From Photographers survey. The 2011 and 2012 surveys are part of PhotoShelters ongoing series of free business guides for photographers. PhotoShelters library includes 30+ educational guides including topics such as creating a successful photography portfolio, email marketing, and starting a photography business. All can be downloaded here: http://bit.ly/psresearch.
About PhotoShelter
PhotoShelter offers the most professional, reliable and innovative online tools to build and grow a successful photography business. Its latest release, Beam, offers a suite of portfolio website templates built with the latest technology to showcase images at their best. Over 80,000 photographers use PhotoShelters websites, social and SEO tools to attract new clients; online image archives to stay organized; and image delivery and e-commerce tools to sell their work. To grow your business, manage it more efficiently, or find new ways to market yourself and delight your clients, try PhotoShelter free for 14 days when you visit http://www.photoshelter.com.
About Agency Access
Full service marketing for artists, Agency Access provides direct marketing for commercial photographers, illustrators, artist reps and stock agencies. The companys sole purpose is to help its members find new clients. Agency Access offers many in-house services to encourage and educate artists to get the most from their marketing efforts, including access to a global database of 90,000-plus commercial art buyers at ad agencies, magazines, book publishers, in-house advertising departments, graphic design firms and architectural firms. A full spectrum of integrated marketing tools including email marketing, direct mail printing and mailing, phone marketing, consultation services and design services makes it easy for artists to connect with the right buyers. Visit Agency Access here: http://www.agencyaccess.com.
Related Graphic Design Press Releases