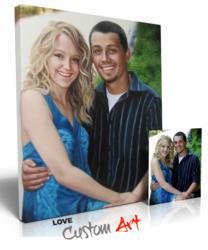 (PRWEB) November 28, 2012
Love Custom Art, the custom art company based in the US and UK have just had the grand opening of Love Custom Prints which has gone live today: http://www.lovecustomart.com/prints/ the fully integrated canvas print site. Also to just to make everyone aware of the very festive Christmas gift discount offers of 20% for regular customers and 25% for customers whom click the follow on facebook button via the fully interactive on-line stores (See home page for details): http://www.lovecustomart.com/ website users can find more detailed information about how the photo to painting process works online.
What photos are suitable?
For a personalized photo print on canvas the photos resolution should be of good enough quality to result in a quality print. If one of the special editing styles is chosen; Love Custom Prints can also work with photos of a lower resolution. The image consultation service is free of charge as well as simple enhancements. For a handmade oil painting, the quality of the photos is crucial to achieve a high quality piece, but do be sure to contact one of the experts at Love Custom Art if the photos resolution is not high enough and one of the team will advise on the best way to proceed before an order has been placed and money spent.
Custom Prints
Love Custom Prints is an addition to the existing photo to painting service website. The standard photo to canvas service (with no special editing required) the photo retouching is absolutely free. Photo to Pop Art styles are professionally edited by graphic designers in the style chosen. All that's required is simply upload photos during the order process with editing instructions. Here are some of the unique styles on offer on their new website: Avatar, Graphic Style, Color Splash, Grunge, Jamaica and Oil Painting style. LCA are expanding their business by having a Canvas Print sub-domain which will give the client the option of photos printed onto canvas as a cheaper alternative to a hand painted piece.
Custom Paintings
Love Custom Art's flagship on-line store specialize in Custom made (bespoke) hand painted portraits by professional artists painted from customers personal photographs at very affordable prices. Just to be clear; if a hand painted portrait happens to be the preferred canvas, then the editing is completely free, but for a print onto canvas then the editing for one of the special styles comes at a small cost.
As a quick overview here; the on-line shop has been designed as a more convenient and cost effective way to access personal art works by uploading digital photos rather than the conventional route of having to physically go to an Artists studio and pose for hours on end to achieve the same result.
Custom Art is a very unique and popular gift for friends & family; choose between a photo to painting or a print on canvas. A splendid gift idea for Black Friday, Thanksgiving, Cyber Monday and at Christmas time, but also on any special occasion, for example: Anniversary gifts, Wedding gifts, Valentine's gifts, Christening presents, Mother's day presents, Father's Day presents etc. Also, for all the animal lovers – Pet Portraits are very popular too.
LCA have restructured their operations for Black Friday, Thanksgiving, Cyber Monday and Christmas so there is enough customer service operators on hand to facilitate all the orders from the print site, as well as the painting site, to maintain their impeccable turnaround time.
LCA also offers its own affiliate program which allows members to earn a 15% commission on each successful referred sale. LCA have decided to adopt a marketing strategy to get these product's as far and as wide as possible globally to market in time for the holiday season to benefit everyone's and anyones art collection in the home or at the office.
The customer support at Love Custom Art will help website users every step of the way to commission an original work of art in form of a Photo to Painting, print on canvas or as PopArt prints to canvas.
Thank you for your time.
Love Custom Art

US Office: +1 218 389 8815

UK: +44 20 3239 8963
Follow the link to answer an art related question: http://www.lovecustomart.com/win30percent

If you answer correctly you will receive a 30% discount coupon!