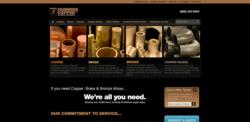 Houston, TX (PRWEB) September 26, 2012
TopSpot Internet Marketing's web development strategy was recently recognized with Manufacturing Standard of Excellence Award in the 2012 WebAwards from The Web Marketing Association (WMA). The WMA was founded in 1997 to help set a high standard for internet marketing and development of the best sites on the web. The WebAward program is the longest running annual website award competition, dedicated to naming the best sites in 96 industries while setting the standard of excellence for all website development. More than 2,000 entries from 42 countries were adjudicated in 96 industry categories during this year's competition. Entries were judged on design, copy writing, innovation, content, interactivity, navigation, and use of technology.
The award was received for web development of the Farmers Copper website for Outstanding Achievement in Web Development in the Manufacturing Industry. Farmers Copper LTD, headquartered in Galveston, TX, is recognized as one of the oldest family-owned and operated metal service centers in the United States. They have been a paid search customer of TopSpots since 2005 and in 2010 they contracted with TopSpot to develop their new website and implement an SEO program. After launch of the new website in 2011, Farmers Copper experienced a 188% increase in monthly conversions. Learn more about Farmers Coppers internet marketing strategy in their case study.
This is not the first award for Farmers Coppers website, receiving an Award of Excellence from the Business Marketing Association of Houstons 2011 Lantern Awards.
About TopSpot Internet Marketing Solutions
TopSpot Internet Marketing Solutions is a Houston-based agency specializing in B2B industrial marketing. TopSpots team has over 20 years of industrial internet marketing experience in helping small to mid-sized manufacturers, distributors and service companies with strategic plans to help grow their business. Our solutions include paid search marketing, SEO, website architecture, website design & development, mobile web development/marketing, analytics, email marketing, conversion improvement, multivariable (a/b) testing and consulting.