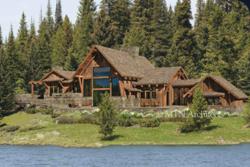 Meridian, ID (PRWEB) July 16, 2012
The summer season has hit its peak and that means Riverbend has introduced another new plan to our diverse portfolio. With architectural styles ranging from Craftsman to Modern, our newest design has potential clients inspired and anxious to begin the process of building their dream timber frame home.
This week, Riverbend has showcased a stylistically unique design to the series, the Bar Harbor. This seaside design is the first of its particular style to be introduced this year.
The coastal feel of this custom design concept features traditional timber framing in the interior that flows through the exterior to create an attached pergola off the master suite. The glass breezeway connecting the home and garage offers uninterrupted views of the land in an artistically unique fashion. This designs versatility makes it fit easily along the rugged New England coast or amongst rows of Oregon seaside cottages.
While this design concept is featured as a single level, gradual steps down from the bedrooms to the great room and to the garage create a distinct separation between living spaces. The outdoor kitchen, fire pit, fountain and private master deck seamlessly connect the outdoors with home interiors and increase the size of the plans total living space.
View the latest Riverbend Design Concepts, and more at: http://www.riverbendtf.com/floorplans.html.
###

PFB Custom Homes Group, a wholly owned subsidiary of PFB Corporation, is the parent company of Riverbend Timber Framing, PrecisionCraft Log and Timber Homes, and Point Zero Homes.

Riverbend is a manufacturer of custom traditional timber frame homes. Using traditional timber frame designs and an integrated energy efficient building system, Riverbends homes are built to last. With 30 years of experience, Riverbend creates inspiring homes that match each clients unique lifestyle, architectural preference and budget.
Find More Architecture Planning Press Releases