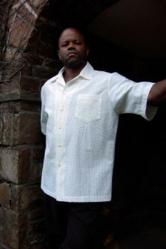 New York, NY (PRWEB) June 10, 2012
Crooked Brook, makers of "The World's Highest Quality Chef Jackets" was contacted by Mark Rosati, Culinary Manager of the modern day roadside burger stand Shake Shack, to cut, sew and embroider his custom camp shirts.
The shirts are Crooked Brook Style BSM500, made in White, 100% cotton Gabardine fabric, with a hidden placket, short sleeves, left shoulder sleeve tailored welt pocket, and left chest tailored welt pocket with white piping. For a signature look, Rosati had 2-vertical rows of piping on right side; one row in Kelly and the other in black.
Embroidery is as follows:

Left chest: Shake Shack logo

Left chest below logo, Black, in Block-1 font: ' M.R.'
About the Shake Shack:
The Shake Shack is a modern day "roadside" burger stand serving the most delicious burgers, hot dogs, frozen custard, beer, wine and more! They use the finest local ingredients to make their versions of much-loved American classics.
Shake Shack opened its windows in Madison Square Park in 2004 and immediately became a neighborhood fixture, with locals, tourists and people from all walks of life gathering to enjoy some Shack goodness. Remarkably, people took to the wait, happy to be together amongst friends and strangers in the name of delicious food, in a fantastic setting. The press took note as well; the Shake Shack Burger, Hot Dog and Frozen Custard were highlighted among the best in the city by numerous media outlets over the years.
Shake Shack is part of Danny Meyer's Union Square Hospitality Group, which includes: Union Square Cafe, Gramercy Tavern, Blue Smoke, The Modern, Cafe 2 & Terrace 5 at the MOMA, Union Square Events and Maialino.
About Crooked Brook
Crooked Brook is a unit of the atelier division of an art studio that offers full service apparel design, pattern making, sample making, private-label small lot production and embroidery. Since 1989, theyve built a strong reputation of providing top-notch apparel designs, patterns, fit and production samples for many brand name catalogs and retailers, as well as wardrobe and costumes for movies, television and theater.
All Crooked Brook branded garments and accessories are proudly made to order in the U.S.A.
Because of their unparalleled attention to detail in tailoring, they were awarded a Supima