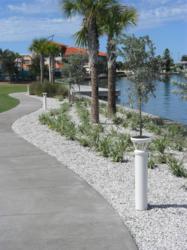 Victoria, BC (PRWEB) August 14, 2012
First Light Technologies Ltd., a leading designer of architectural-quality, integrated solar-powered LED lighting products for pedestrian applications, announces the successful installation of its new PLB Series Solar LED Bollards by the City of St. Pete Beach in Southern Florida.
First Lights bollard design fit our needs perfectly, said Renee Cooper, CIP Construction Manager at City of St. Pete Beach. The choice to use solar not only provided a visibly green statement but was also cost effective. Short term cost savings included being able to deduct the cost for conduit and wiring. The long term cost savings can be realized by not having any additional monthly electrical service fees. The bollards could be categorized as being a one-time capital cost with long-term savings benefits.
Cooper also felt the LED solar lighting provided by First Light Technologies has a future with the city, Installation was simple and the response has been fabulous. The community loves the look of the bollards and the ambience of the softly lit pathways. We will be looking at other areas to utilize the bollards and I foresee more of these being installed in the near future.
St. Pete Beach officials installed the PLB lights as part of a park improvement project at Horan Park, which included new sidewalks, sod and large solar pole lights. For areas remote from the existing electrical panel, budget constraints called for a solar stand-alone lighting solution that could be installed with minimal site disturbance, reducing cost by eliminating conduit, wiring and trenching. The city also required the light to be vandal resistant and able to withstand high winds and flying debris of a coastal location, to avoid ongoing maintenance and repair costs.
City officials chose our new PLB Series Solar LED Bollard for their robust design, ease of installation and cost savings, said Justin Taverna, First Light Technologies Managing Director and Co-founder. Feedback from our client following installation is excellent, confirming our confidence that we have launched a remarkable product into the $ 13 billion outdoor and architectural lighting market.
About the PLB Series Solar Powered Bollard

The PLB Series Solar LED Bollard is a stand-alone solar-powered light for low-level architectural and commercial pathway and landscape lighting. The PLB is cost-competitive with traditional hardwired bollards while offering several advantages: