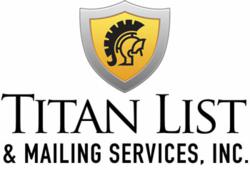 Deerfield Beach, FL (PRWEB) June 15, 2012
Titan List & Mailing Services, Inc., a leader in direct marketing in the mortgage industry, has announced a record breaking month for their mortgage department with direct mail advertising campaigns. In June 2012, Titan List serviced over 90 mortgage customers in one week, which resulted in over a million direct mail advertisements being designed, printed, and mailed throughout the United States.
Titan List & Mailing has been around since 1998, and started as a data list broker for mail and phone lists. The company expanded their operation to also include printing and mailing after noticing an integrity gap with other mail and print providers. While Titan List is firmly entrenched as a leading player in the mortgage industry, they have done direct marketing campaigns in various industries.
A primary factor for the record breaking month can be attributed to the surge in FHA and HARP 2.0 mailings. According to Jared Braverman, director of marketing at Titan List & Mailing Services, the FHA and HARP 2.0 programs have created frenzy in mortgage marketing with our clients, and have brought us many new clients wishing to capitalize on these opportunities. There are millions of homeowners stuck in high interest rate loans that have been unable to refinance, and these programs are exactly what they have been waiting for. All a mortgage shop has to do is get the word out to them, and thats where Titan Lists has been successful.
About Titan List & Mailing Services, Inc.

Titan List & Mailing Services is a full service advertising and design agency specializing in direct mail and mortgage marketing, mailing lists and data lists, internet marketing and SEO, and website design/ graphic design. Titan List has been around since 1998, and has a team of highly qualified individuals with experience in the marketing trends that fit your business. Unlike other agencies that source their work out, Titan Lists handles the entire campaign in-house – Data Lists, Design, Printing, Mailing, and Postage.
For more information please call or visit:

http://www.TitanLists.com | 800.544.8060