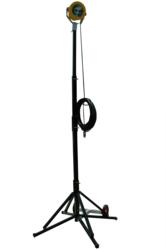 Kemp, TX 75143 (PRWEB) June 18, 2012
The Magnalight EPL-TP-1X70-100 quadpod mounted explosion proof metal halide light combines high output and mobility with the high stability of a four leg adjustable tower. Equipped with a waterproof metal halide light fixture producing 32,000 lumens, this adjustable light tower is resistant to wet and corrosive marine environments and can cover over 13,000 square feet of work space with high quality light. This portable tower is constructed of aluminum for light weight and high strength, and features 4 foot to 8 foot height adjustability, a 4 leg base for high stability, a pair of solid rubber wheels for easy mobility, and a takedown design that allows the light assembly to be removed and the tower collapsed for easy transport. The metal halide lamp on this unit is constructed of copper-free cast aluminum with a thermoset powder coat finish for corrosion resistance. The lamp housing, covers and fittings are also copper-free aluminum and a 3/4″ thermal shock and impact resistant tempered glass lens protects the metal halide bulb and reflector assembly. The lamp is mounted to the tower with a U-bracket which allows operators to easily adjust the lamp through almost 360 degrees of vertical movement and is secured with stainless steel hardware. This light tower is approved for Class 1 & 2 Division 1 & 2 hazardous locations, UL 595 Marine Type approved, and carries a T4 temperature rating. Magnalight also includes 100 feet of abrasion and chemical resistant cord fitted with an explosion proof straight blade plug to provide safe and secure connections and plenty of length for moving the tower around the work area. These towers operate from standard 120 VAC current, and are ideal for use in wastewater treatment plants, refineries, petrochemical facilities, coal pulverizing facilities, munitions storage areas, utility gas plants, hazardous areas and locations where wet or corrosive marine environments pose a durability issue.
This explosion proof quadpod breaks down into five pieces, allowing for space efficient storage and convenient transportation of the EPL-TP-1X70-100 light tower, says Robert Bresnahan from Larson Electronics Magnalight.com. The wheeled base on the hazardous location quadpod increases mobility, allowing a single operator to move the tower from point to point.
Larson Electronics Magnalight.com carries an extensive line of explosion proof LED lights, hazardous location lights, intrinsically safe LED lights, portable explosion proof lights and intrinsically safe LED flashlights. You can view Larson Electronics entire Magnalight line of explosion proof lighting at Magnalight.com. Magnalight can be reached directly by calling toll free, 1-800-369-6671 or 1-214-616-6180 for international inquiries.
Find More Lighting Design Press Releases