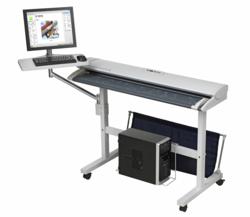 (PRWEB) June 17, 2012
The SmartLF SC 42 wide format scanner has been designed with many new and productive innovations to meet the needs of high volume scanning users in AEC, CAD, GIS and Copyshop or Service Bureaus.
Commenting on the new scanning technology, Peter Brown Colortrac Executive Director said The new SingleSensor digital imaging technology for the SmartLF SC 42 wide format scanners is an important new Colortrac invention. The SingleSensor is a single full width 42 inch array of Contact Imaging Sensors (CIS) that are housed in a robust structure and pre-aligned, giving higher optical quality and improved match between sensors. The full width SingleSensor has 50,400 pixels giving it an optical resolution of 1200dpi and a maximum scanning resolution of 9600dpi. It also uses a bi-directional white LED lighting system that optimises the illumination of the scan object whilst giving an Instant-on response. This lowers power consumption as the lights are only on whilst scanning and eliminates the effects of shaded areas caused by creases or folds in the original documents.
The SmartLF SC 42 is capable of scanning monochrome documents at 13 inches/sec and color at 6 inches/sec. To improve the document feeding capabilities at these increased scanning speeds, it incorporates a new single roller document feed mechanism that holds the document firmly up against the SingleSensor lens. This allows it to handle a variety of document types including creased, fragile or even thin media such as newspaper.
The SmartLF SC 42 is also the first large format scanner to utilise the new SuperSpeed USB 3.0 serial PC interface that provides for data transfer at up to 5Gb/sec this is approximately 10 times the data transfer speed of the current USB2 interface. This reduces the time taken to transfer the image data from the scanner to the host PC – this has always been a restriction on productivity. Tests have indicated a realistic throughput of 273 Arch-E (36 x 48) sized color pages per hour at 200dpi resolution or 171 documents at 400dpi. By using the new SmartWorks EZ Touch software provided with the scanner, easy quality adjustment of the scanned image can be made, making the SmartLF SC 42 large format scanner ideal for those large archival jobs.
Summarizing the capabilities of the new wide format scanner, Peter Brown commented The color space of SingleSensor can be set to sRGB or RAW RGB depending on application. The excellent color accuracy of this scanner and the higher scanning and data transfer speeds using the SuperSpeed USB3 interface contribute to making the SmartLF SC 42 the most productive large format scanner available. It also reinforces Colortracs position as the leading innovator in the field of wide format scanning technology.
See: http://www.colortrac.com
For further information contact:
Rob van Brakel,

Marketing Manager,

Colortrac Limited.

Tel: +44 (0)1480 464618

Email: press(at)colortrac(dot)com

Web: http://www.colortrac.com
About Colortrac

Founded in 1989 and based in St Ives, Cambridgeshire, UK, a region of British excellence in science and technology, Colortrac Ltd is the leading innovator in professional wide format scanners and image acquisition software solutions with many new technically innovative patents created by their Research and Development departments, including the NEW SingleSensor scanning technology.
Colortrac was the first wide format scanner manufacturer to recognize the individual merits of both Charge Coupled Display (CCD), Contact Image Sensor (CIS) and will incorporate the newly introduced SingleSensor technology into some of their new SmartLF scanners. Coupled with a full range of supporting SmartWorks software, they are creating unique customer solutions to simplify scanning problems across the full spectrum of applications. These range from the demanding Graphics Arts market to practical, productive CAD, GIS, EDM and FM technical document scanning.
Colortrac Ltd has offices in Beijing and Suzhou, P.R. China, in Chantilly, Virginia, USA and in Yokohama, Japan and now in Mexico.
Further information about Colortracs products can be found at: http://www.colortrac.com
Find More Graphic Design Press Releases