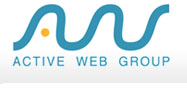 Hauppauge, NY (PRWEB) July 25, 2012
Active Web Group, Inc. (AWG), the award-winning online marketing company headquartered in Hauppauge, New York, today announced a Free Logo With Website Design opportunity for interested online business owners. Recognizing the value of having a well-designed logo to an online business branding initiatives, AWG will include a free, professionally designed corporate logo design for business owners opting for a custom web design by the firm.
A distinctive corporate logo is key to the success of many online branding initiatives, notes Pat Norton, Vice President and Director of Business Development, Active Web Group, Inc. It is not only visually stimulating but necessary to separate your business from the pack, Norton adds.
However, some businesses establishing a web presence may not have a logo or an effective one. By offering this valuable commodity without cost to business owners who opt for our custom web designs, Active Web Group is providing these firms with one of the most important tools their business will need to succeed- their online identity, he concludes.
New businesses are not the only firms who may benefit from AWGs Free Logo With Website Design opportunity. Some start-up firms who gained strength online may be ready to expand their business and are seeking a more upscale design to reflect their business growth. Active Web has assisted start-ups to Fortune 100 firms to further their business directives via sound design principles and trend forward with advanced techniques.
Active Web Group encourages interested business owners to take advantage of the no-cost Free Logo With Website Design. Active Web will assist business owners to determine their online goals and work with them to achieve their objectives through solid, professional design and website expertise. The Company has received numerous design awards for its websites and is known for producing SEO-friendly designs as well as potent and memorable logos to round out any corporations branding campaigns.
A full-service agency, Active Web Group also has extensive experience in Digital Media, Programming (all proficiencies including php, asp and asp.net), Email Marketing, Social Media Marketing, Graphic Design, E-Commerce, Magento Ecommerce, WordPress Ecommerce and custom solutions and Pay-Per-Click Marketing.
Related Graphic Design Press Releases