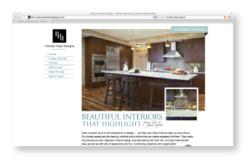 Houston, Texas (PRWEB) June 22, 2012
Pamela Hope Designs, a Houston interior design firm specializes in high-end design services with a focus on style, comfort and ease of process. Owner Pamela OBrien and her team of interior design specialists have over a decade of experience with all aspects of residential and commercial design, and offer comprehensive design services for Houston-area homeowners and businesses.
From project management services to color consultation for both remodels and new construction, Pamela Hope Designs brings a wealth of experience to every job. The team has worked with many prominent clients in Houston and nationwide, and has experienced significant growth in recent years.
This growth, and a desire for an upgraded web presence, has prompted a complete rebrand for the company. In order to align with its evolution into a premier high-end Houston interior design firm, Pamela Hope Designs turned to inbound marketing agency Adhere Creative to create its new web design. Adheres team of marketing, design and development professionals put together a fresh new look for the design firm that reflects its vision for the future and focus on gaining new clients.
Owner Pamela OBrien believes that the new rebranding represents her companys dedication to great design. She states, I am pleased to launch the new Pamela Hope Designs web site. I think it reflects our love of comfortable luxury, clear communications, client collaboration and our fun and refreshing approach to interior design. I believe great design is a huge pleasure and can affect your life every day. Our clients enjoy the experience as much as the results.
Nathan Yerian, Director of Strategy for Adhere Creative, is also pleased with the results and the success of his companys collaboration with Pamela Hope Designs. Working with Pamela on this project was a pleasure. Her passion for interior design made the design process flow smoothly and the result was clean and focused on the value she brings to her clients.
With an attractive new site and a fresh, updated look for her brand, Pamela OBrien is looking forward to expanding her client base and helping Houston-area residents and businesses create more attractive interior spaces that reflect the ways they want to live and work. She believes that Adhere delivered the results she was looking for. The Adhere Creative team was a fantastic partner when it was time to rebrand my company and upgrade our web site. They exceeded my expectations being on point, on schedule and on budget. From the first meeting, they not only listened, but they really got it. I couldnt believe how good the first draft was. Excellent work, Adhere — I look forward to future projects!
About Adhere Creative:

Adhere Creative, a Houston inbound marketing agency specializes in measurable, results-driven marketing initiatives for small to mid-sized businesses.
Find More Interior Design Press Releases