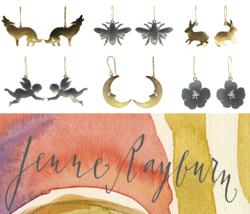 Boston, MA (PRWEB) August 31, 2012
The Fall 2012 Art At The Market event will be held on September 15th, 2012 from 9:30 AM 2:00 PM, at the Winchester Common farmers market, providing attendees the opportunity to purchase exquisite hand-made collections from Jenne Rayburn, a studio craft artist who will offer one-of-a-kind jewelry and accessories. Jenne will be highlighting her Ark Jewelry Collection. Combining traditional metalsmithing techniques like piercing, stamping, and etching, Ark is a collection of iconic-silhouetted images designed as earrings, necklaces and charm bracelets. These timeless shapes are inspired by the animal characters found in cultural mythologies the world over, and tell stories of how hope, strength and virtue tie us to a greater universal purpose. Expressing big ideas, aspirations, and values, through deeply rooted symbolism, Ark combines ornament with storytelling.
Jenne Rayburn is a metalsmith, enamellist, and seasoned designer who creates lovely, original jewelry and textile designs intended to compliment the vision of the woman who wears them. Jennes approach is rooted in the timeless elements and reflections of nature and natural formations, geometries and juxtapositions. She is inspired by the structure and ornamentation in architecture. She gravitates toward layering and contrasting texture and color. Her work embraces simplicity of form and intricacy of pattern. My wearable pieces are a contemporary distillation of ancient handcrafts and jewelry, the ornament of indigenous peoples, and interpretations of nature, said Rayburn. I love to blend art and history with form and function, combining traditional and innovative contemporary techniques to achieve dynamic color, texture and pattern effects. Jenne is fascinated with myths and folk stories that recount heroic adventures and strive to express the mystery and complexity of the human experience. Grounded by study and admiration of formal and classical design and traditional techniques, yet not constrained by them, Jenne is continually experimenting and seeking out innovative materials and methods that enable her to express her ideas.
The annual Art at the Market, presented by the Winchester Cultural Council, is a juried art fair. The jury is comprised of WCC members, practicing artists, art teachers, and committee members who annually judge original artwork of professional quality in any medium for acceptance. The Winchester Cultural Council is a group of volunteers, appointed by the Board of Selectmen, who work to serve the artistic and cultural life of Winchester, MA.
Art at the Market will be held at the Farmers Market on the Common

Waterfield and Church Streets, Winchester, MA

Saturday, September 15, 2012 9:30 AM 2:00 PM
Visit Jenne Rayburns collections http://www.jennerayburn.com

Visit Jenne Rayburn on Facebook http://www.facebook.com/Jenne.Rayburn
About:

Jenne Rayburn is a Boston-based jewelry/textile artist who also studied interior design and architecture, and her work explores the convergence of architecture, design, technique and identity. Jenne is known for her work that combines vintage textiles, findings and components, with contemporary jewelry and accessory designs. A graduate of the University of Washington where she studied metalsmithing and fiber arts, and of the University of Massachusetts, Amherst with a MS in Design, Jenne has been designing jewelry and accessories for over 20 years. Perpetual curiosity and a passion for experimentation resulted in her first jewelry collection made from etched copper and brilliantly colored enamel. Since then, Jenne has created six unique collections of jewelry and fashion accessories that combine careful workmanship with unique materials and designs. It is her hope that the wearers of her pieces will find joy in a delightful artistic statement, and also something that enhances their individuality and confidence. Her work is carried in local galleries and online. Please visit http://www.jennerayburn.com for Jenne Rayburns online flagship store. For wholesale information, please visit jennerayburn.com/wholesale.com
Related Interior Design Press Releases