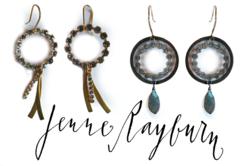 Boston, MA (PRWEB) November 28, 2012
Just in time for the holiday shopping season, Boston area craft and jewelry galleries will feature new pendants, earrings and other costume jewelry works, as well as couture handbags, by local designer Jenne Rayburn. Each piece in the Jenne Rayburn collection is designed, crafted and assembled by hand at Rayburns studio in Malden, MA. Designs reflect seasonal fashion inspirations and are crafted to accessorize contemporary and classic wardrobes. As a trained metalsmith and enamellist, Rayburn incorporates ancient jewelry techniques into her work, as well as antique and up cycled components from her extensive travels.
This seasons signature jewelry pieces center around the themes of glamorous holiday parties with glittering vintage crystal, the twinkle of reflected light and the luster and contrast of gold mixed with antique silver, reflecting Rayburns love of mixing contemporary with antique. Ive been working with local antique dealers to curate the vintage Swarovski crystals and cut glass in this collection, says Rayburn. Prior to each season I consider the components and stones available in the markets, and the fashion trends as shown at fashion week around the globe, to create unique and timely capsule collections. I only buy the best stones and utilize the highest quality materials.
Wearing great pieces of designer jewelry makes women look and feel beautiful. You can find Jenne Rayburn jewelry, handbags and scarves at the Limited Edition Gallery, in Newton Highlands, MA; the Hourglass Gift Gallery in Melrose, MA, and the Karenna Maraj Gallery in Belmont, MA.
Karenna Maraj Jewelry Collection was established in 2010 as a gallery & studio space in which to sell original jewelry created by jewelry artists and metalsmiths and also to provide classes and open studio space to the local community. Today Karenna Maraj Jewelry Collection represents 56 local artists. Each of the artists is known for his or her distinct style and use of materials. All work is handmade and is one-of-a-kind or of limited production. Collectors frequent Karenna Maraj in search of new works by their favorite artists.
Hourglass Gallery represents more than 50 fine artists and crafters, many local Massachusetts and the New England area. We don't take Made in America lightly, less than 5% of our goods are imported, we sell Fairly traded items and some Canadian products, says owner Lorrie DiCesare. "95% of our goods are made in the USA."
Limited Editions is a gallery and shop located in the village of Newton Highlands, just a few miles west of Boston. Jo-Ann Freedman, owner for over 36 years, continually showcases high quality and distinctive work by American craftspeople. As you walk through the gallery, you will discover and be delighted by a whimsical and eclectic mix of color, texture and design.
Visit Jenne Rayburns collections http://www.jennerayburn.com

Visit Jenne Rayburn on Facebook http://www.facebook.com/Jenne.Rayburn
About:

Jenne Rayburn is a Boston-based jewelry/textile artist who also studied interior design and architecture, and her work explores the convergence of architecture, design, technique and identity. Jenne is known for her designs combining vintage textiles, findings and components, with contemporary textile design. A graduate of the University of Washington where she studied metalsmithing and fiber arts, and of the University of Massachusetts, Amherst with a MS in Design, Jenne has been designing jewelry and accessories for over 20 years. Perpetual curiosity and a passion for experimentation resulted in her first jewelry collection made from etched copper and brilliantly colored enamel. Since then, Jenne has created six unique collections of jewelry and fashion accessories that combine careful workmanship with unique materials and designs. It is her hope that the wearers of her pieces will find joy in a delightful artistic statement, and also something that enhances their individuality and confidence. Her work is carried in local galleries and online. Please visit http://www.jennerayburn.com for Jenne Rayburns online flagship store. For wholesale information, please visit jennerayburn.com/wholesale.com

###
Find More Interior Design Press Releases