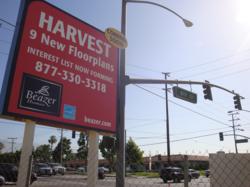 Rancho Cucamonga, CA (PRWEB) July 25, 2012
Kana Pipeline received its second underground pipeline contract with now key client, Beazer Homes, for the Harvest Tract. This $ 1.1M project for Kana is located in Inland Empires Rancho Cucamonga, CA, and includes offsite and onsite water, sewer and storm drainage systems construction work. This new 161- unit residential development is located at the southwest corner of 6th and Archibald, minutes away from Victoria Gardens Mall and the I-10 freeway with precious views of Mt. Baldy.
The Harvest tract model homes are expected to be up in the next couple of months and Beazer Homes couldnt be more eager to share their unique family-friendly community with us. The Harvest Tract has been designed such that multi-family units will be surrounded by single-family homes calling this a cluster home residential type of community. This type of community is said to have done well for other homebuilders in nearby areas such as Upland that have also featured the cluster home concept. The cluster homes are on a smaller lot, where front doors open into a common green belt area, and where an alley may be shared with multiple other homes.
Pipeline construction work began end of April, with sewer, water pipeline and storm drainage systems totaling nearly 20,000 linear feet of pipe. This is not to mention the underground large yellow half-domed ribbed storm water chambers that were installed measuring 5 in diameter x 4 tall that will be used to retain storm drainage on site before exiting to public channels.
This new residential project will feature three separate product series, totaling 9 floor plans, comprised of condos and 1-2 story single-family homes. These homes will feature spacious floor plans, extra storage spaces and private backyards with one-of-a kind amenities including community gardens, all in a gated community. There will no mello roos, not to mention the advertised ENERGY STAR