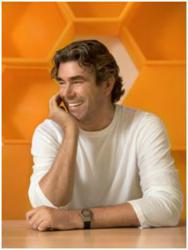 San Diego, Calif. (PRWEB) November 09, 2012
Clive Wilkinson, an architect, designer and strategist who has received national acclaim, will speak at NewSchool of Architecture and Design(NSAD) Nov. 14 as part of the schools 2012-2013 lecture series. The event is free and open to the public. Wilkinson will speak about The Architecture of the Large Organization.
Acknowledging the social and cultural influences on the workplace that are pressing for massive change, Wilkinsons lecture will address the act of building as an opportunity for large corporations and institutions to transition from one organizational form to another. The lecture will address emerging paradigms and the sociological forces at play, with examples of how these are interpreted within the architecture and design work of his firm Clive Wilkinson Architects.
When: Wednesday, Nov. 14, 7 p.m.
What: Clive Wilkinson on The Architecture of the Large Organization
Where: NewSchool of Architecture and Design auditorium. Campus located at 1249 F Str. San Diego, Calif. 92101.
How: Event is free and open to the public. However, priority seating is given to NSAD students, faculty and alumni.
About Clive Wilkinson: Clive Wilkinson is an architect, designer and strategist; and founder of Clive Wilkinson Architects, based in Los Angeles. Established in 1991, his practice has built up an international reputation with projects for clients such as Google, Nokia, Disney, Macquarie and TBWA/Chiat/Day. While dramatic in its architecture, his design process is primarily focused on the social agenda of buildings, and how people connect with each other. His work is recognized for its creative adaptation of urbanism concepts into the interior complexity of buildings. Clive Wilkinson was inducted into the Interior Design Hall of Fame in 2005, honored as a Master of Design by Fast Company magazine in 2006, and a Pioneer of Design by the IIDA in 2011. The practice has been recognized for its radical workplace and education projects with over 75 design awards and is the recipient of the 2012 Smithsonian Cooper-Hewitt National Design Award for Excellence in Interior Design.
About NewSchool of Architecture and Design

NewSchool of Architecture and Design (NSAD), founded in 1980, is located in San Diego, California. NSAD is accredited by the Accrediting Council for Independent Colleges and Schools (ACICS). ACICS is listed as a nationally recognized accrediting agency by the U.S. Department of Education and the Council for Higher Education Accreditation. NSADs Bachelor of Architecture, Master of Architecture and Executive Master of Architecture programs are accredited by the National Architectural Accrediting Board (NAAB). NSAD also offers a pre-professional Bachelor of Arts in Architecture, a Bachelor of Science in Digital Media Arts, a Bachelor of Science in Construction Management, a Master of Construction Management and a Master of Science in Architecture. NSAD was ranked among the top 10 undergraduate architecture schools in the western United States, according to the DesignIntelligence report Americas Best Architecture & Design Schools 2012. For more information, visit http://www.NewSchoolArch.edu.