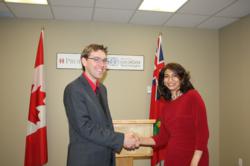 Mississauga, ON (PRWEB) June 11, 2012
Mississauga, ON, 11 June 2012 Prolucid Technologies Inc., a Toronto-based software engineering firm, announced today that it has been awarded $ 887,820 from Ontarios Smart Grid Fund to demonstrate its embedded LocalGrid software at Exhibition Place in Toronto.
In the two-year demonstration period, starting later this year, Prolucid will build an integrated network of intelligent grid devices to manage, monitor and control the power grid at Exhibition Place, an ideal site due to its high public profile and its current mix of distributed generation installation, including solar, wind and CHP (co-generation heat and power).
The project will integrate these existing devices using the latest grid communication protocols, providing Toronto Hydro-Electric System Limited (Toronto Hydro) with an unprecedented level of detail about power quality, load, capacity and generation output across the network. Toronto Hydro will be able to use this data and the new tools the software provides to optimize the generation and consumption of power on the local grid at Exhibition Place, while also improving the quality and reliability of power in Toronto. Toronto Hydro is excited to be part of this innovative project. It should allow us to bring more green energy projects online, said Richard Ford, Manager, Grid Solutions, Toronto Hydro.
Prolucid has partnered with Toronto Hydro, National Instruments (NI), Ciufo & Cooperberg Consulting Inc. and WindShare, the cooperative that owns and operates the Exhibition Place wind turbine with Toronto Hydro. These partnerships will leverage industry experience and expertise to develop viable grid solutions that will ultimately reduce the cost of building a new, smarter electricity grid and increase the connection of clean, renewable energy into Ontarios generation mix.
The software and hardware platform based on National Instruments (NI) CompactRIO technology will allow Prolucid and Toronto Hydro to rapidly prototype, develop and deploy technologies that are designed to meet the requirements of the local grid, while also providing greater technology headroom for future requirements that have yet to be developed.
Due to the complexity of the electric power system, integration is key. The NI platform is beneficial because it addresses both legacy and intelligent energy systems. Distributed intelligence deployments will provide utilities with data that was previously unavailable, said Owen Golden, Vice President of National Instruments Global Energy Segment. Utilities will gain the ability to see across their entire system as well as the interconnection of renewable energy sources. This project will enable Toronto Hydro to harness the advanced analytics of the technology as it identifies new customer requirements that drive the evolution of the smart grid.
This funding and the demonstration project ensure that Ontario will continue to lead in the development of smart grid technology, said Bob Leigh, President, Prolucid Technologies Inc. Utilities globally face significant challenges to change the model of power consumption, reducing greenhouse gases and increasing the efficiency of the grid. The technology Prolucid is developing will allow utilities to rapidly upgrade their grid and move forward with better, greener solutions.
About Prolucid Technologies Inc.
Prolucid Technologies provides software engineering and product commercialization services, specializing in complex, mission critical, embedded systems that transform the way our clients do business. Our grid technology enables real-time management and control of power distribution to maximize the utilization of existing assets on the local grid for a fraction of new infrastructure costs. Prolucid is the winner of the 2011 Profit Hot 50 award and the BDO Business Value award. Prolucid is also a Silver Alliance Partner with National Instruments, partnering with them to develop grid solutions based on the NI CompactRIO product line.
About Toronto Hydro
Toronto Hydro is the regulated "wires" affiliate of Toronto Hydro Corporation and is the largest municipal electric distribution utility in Canada. Toronto Hydro ensures the safe and reliable delivery of electrical power to approximately 709,000 residential, commercial and industrial customers across the City of Toronto. This represents approximately 18 percent of electricity consumers in the province of Ontario. Toronto Hydro plans, maintains and operates Toronto's electrical distribution system infrastructure safely, efficiently and in an environmentally responsible manner.
Toronto Hydro Facts:
City of Toronto population: 2.5 Million

Total number of customers: 709,000

Electricity Delivered (GigaWatt-Hours): 24,708

Total Revenue: $ 570.8 Million

Length of overhead wires (km): 15,100

Length of underground wires (km): Over 10,900
About National Instruments
Since 1976, National Instruments has equipped engineers and scientists with tools that accelerate productivity, innovation and discovery. NIs graphical system design approach to engineering provides an integrated software and hardware platform that speeds the development of any system needing measurement and control. The companys long-term vision and focus on improving society through its technology supports the success of its customers, employees, suppliers and shareholders.
About Ciufo & Cooperberg Consulting Inc.
Ciufo & Cooperberg Consulting Inc. (CCCI) provides services within the practice of Professional Engineering in the Province of Ontario. John Ciufo and Aaron Cooperberg are the principal owners. John Ciufo is a professional electrical engineer with thirty-six years of electric utility experience with a focus on protection and control (P&C) systems. John was the former Manager Protection & Control Strategies and Standards at Hydro One, and a former NERC and NPCC Relay Sub-committee Chair and Vice-Chair, respectively. Aaron Cooperberg is registered with Professional Engineers Ontario in the category of Power System Protection. Aaron has thirty-five years of electric utility experience with a focus on protection and control (P&C) systems. Aaron was the former Manager Protection & Control Planning at Hydro One. CCCI provides electric utilities with services in the following areas: smart grid, compliance, asset management, development of strategies, policies, standards, planning, training, and represent utilities as Owner Engineers.
About WindShare
WindShare is an innovative wind power co-operative, the first of its kind in Canada. WindShare's mission is to demonstrate leadership and action in the community wind power sector, and to develop community power projects that are sustainable economically, environmentally, and socially. WindShare provides an alternative to large, centralized energy generation with the development of local, profitable and inclusive community power projects.
For more information, please contact:
Bob Leigh

President, Prolucid Technologies Inc.

Phone: 416-840-6493

Email:bob.leigh (at) prolucid (dot) ca

http://www.prolucid.ca

http://www.prolucidlocalgrid.com
###
Related Graphic Design Press Releases