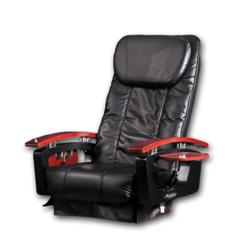 Arlington, Texas (PRWEB) June 05, 2012
The iRobotics is designed for the grueling demands of the nail salon industry. Luraco brings its experience with military technology to this innovative new product offering that combines extreme luxury with high-tech innovation. Luraco is best known in the beauty industry for their patented pedicure jets; the Magna Jet and Dura-Jet III. Both jets are very popular for reliability and easy sanitation features. Known in the beauty industry for innovation, Luraco had many requests to develop a reliable massage chair specifically for the beauty industry. Luraco has responded with the one of a kind, iRobotics massage chair.
Features include:
Advanced, Full Function Massage System

Swedish and Shiatsu Massage

Self Diagnostic System

Military Grade Components

Replaceable Remote Control

Removable Chair Back

Replaceable Control Box

Integrated MP3 Player

Laptop Holder

High Reliability

Ultra Soft Genuine Leather
Designed for the 8-10 hour a day demands of nail salons, the iRobotics is up to the test. The problems of broken mechanics, faulty remote controls, and break-downs are virtually eliminated with the iRobotics self diagnostic system. The system notifies the user via an LED display of the internal status of the system. If for example, an LED identifies a problem with the remote, the remote can be easily replaced. The same is true for other common failures of massage chairs. So, now there is no need to send the entire chair off for maintenance when a simple remote replacement or reboot of the mother board solves the issues.
The iRobotics has advanced comfort features as well as technological. The massage motion includes both Swedish and Shiatsu massage techniques. The internal working components are unsurpassed in quality. Soft, subtle leather nests you in comfort

and an integrated MP3 system allows the user to enjoy the music of their choice. A unique and stylish laptop holder is available as an option for an additional luxury for salon guests.
The massage chair comes in four popular colors and is light weight to save on shipping costs. The iRobotics fits on to most existing pedicure spa bases.
For complete details please contact Luraco Technologies or visit the Luraco booth at COSMOPROF North America.