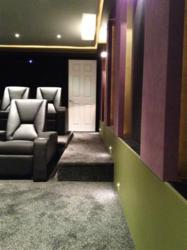 Richmond, VA (PRWEB) August 28, 2012
A home in Southport, England included a large, unique cinema and games room. But after the current residents lived there for ten years, the layout, design, and technology were out of date. They contacted Matt Wayne, a Design Consultant at the UKs Finite Solutions Home Technology Specialists. Wayne came up with an extensive redesign and technological upgrade, using acoustical products from Acoustical Solutions, Inc.
The acoustical treatment, and "key feature" of the room according to Finite Solutions, is the SoundSuede material from Acoustical Solutions. Black SoundSuede Fabric was installed along the walls, covering the nine new speakers and subwoofers creating a hidden surround sound system. SoundSuede Acoustical Panels were then installed intermittently along the walls in the color Boysenberry to increase sound quality and intelligibility. SoundSuede Acoustical Panels are a common treatment in top-of-the-line home theaters, are available in 55 colors, and have a Noise Reduction Coefficient of .85 to 1.15.
The completed project was entered into the CEDIA Awards for best home cinema, where judges applauded the aesthetics and acoustical clarity, choosing the theater to be a finalist in its category. CEDIA, the Custom Electronic Design & Installation Association, is a not-for-profit trade organization founded in 1989. The CEDIA Awards were established in 2006 to recognize and promote high quality home AV design, installation and integration. Each category is judged by an expert panel comprising building industry professionals and journalists from the interior design, architectural and AV worlds.
I was really pleased with the cinema as was the client and [ASI Architectural Sales Rep] Blake Hall's assistance was particularly useful, said Wayne, upon completion of the room the client had purchased a healthy selection of new films to enjoy in the cinema and after a few simple demonstrations the client was absolutely blown away with the sound and picture quality.
Finite Solutions said the cinema provides the comfort, warmth and perfect acoustic environment to get the best performance from the equipment.
About Acoustical Solutions, Inc.:
Since 1989 Acoustical Solutions, Inc. has provided the detailed expertise needed to serve the noise control community. Acoustical Solutions, Inc. works with a wide variety of customers from commercial and residential development to worship facilities, recording studios and home theater designers. Acoustical Solutions, Inc. offers the industry's most comprehensive selection of noise control and soundproofing products, including a full line of indoor and outdoor industrial, commercial, environmental and architectural noise control products. For more information please visit http://www.AcousticalSolutions.com, call 1-800-782-5742, or see our media kit.
###