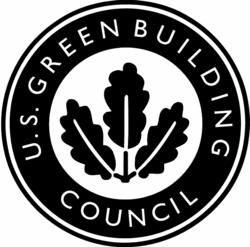 Lake Forest, IL (PRWEB) May 01, 2012
The U.S. Green Building Council is preparing to enact its modifications to the Leadership in Energy and Environmental Design (LEED) certification requirements in November. Every change by the Council is to promote its goal of reducing emissions, and in this case, to benefit cyclists and encourage more people to ride their bikes instead of driving. Cyclists should come to see commercial bike racks in more convenient locations and be integrated into the buildings design scheme more seamlessly.
According to the Councils website, key changes regarding bike racks dictate the maximum distance an outdoor bike rack can be from a buildings front door, and how the bike racks must be within 200 yards of a bicycle network. The bicycle network requirement is new, and an additional guideline stipulates how a school, transit stop, or 10 other uses must be within three miles for a building to receive credit. Some builders may find difficulty integrating bike racks into a buildings architectural landscape or even come to find that the building doesnt meet the location requirements for including a commercial bike rack.
The changes make it all the more important for builders to find commercial bike racks that are going to fit the design aesthetic of the building. Low-profile racks, like the bike dock, only require a small footprint, and they dont disrupt the visual appeal of the building. Wave-style bike racks, on the other hand, can accommodate many bikes and are available in a wide range of colors.
The cycling enthusiasts at Bike Rack Shops view the changes as good ones. People are going to be willing to install commercial bike racks that are more attractive and more convenient for cyclists to use, which is in line with our goal of encouraging people to ride their bikes, remarked Alex Miller, President of Renaissance Retail, Bike Rack Shops parent company. They also feel the more finished looks of the buildings will benefit builders, full-time occupants of buildings, and visitors to buildings certified under the U.S. Green Councils new standards.
Bike Rack Shops was the Internets first dedicated source for meeting the vehicle and storage rack needs of cyclists and has evolved into the Internets leading source for bicycle and storage racks. Its mission is to provide outstanding service, the lowest allowable prices, and the widest selection of leading bike rack brands. Headquartered in Lake Forest, Illinois, Bike Rack Shops is a division of Renaissance Retail, the Internets leading source for specialty consumer products.
Contact:

Timothy Benson

Renaissance Retail

847-932-4720 ext. 2704

Email: tim(at)bikerackshops(dot)com